NEW SAPA AREA | DETAIL PLANNING SCALE 1/500 (SAPA, LAO CAI)
QUY HOẠCH CHI TIẾT TỶ LỆ 1/500 KHU ĐÔ THỊ MỚI ĐÔNG BẮC SAPA (LAO CAI)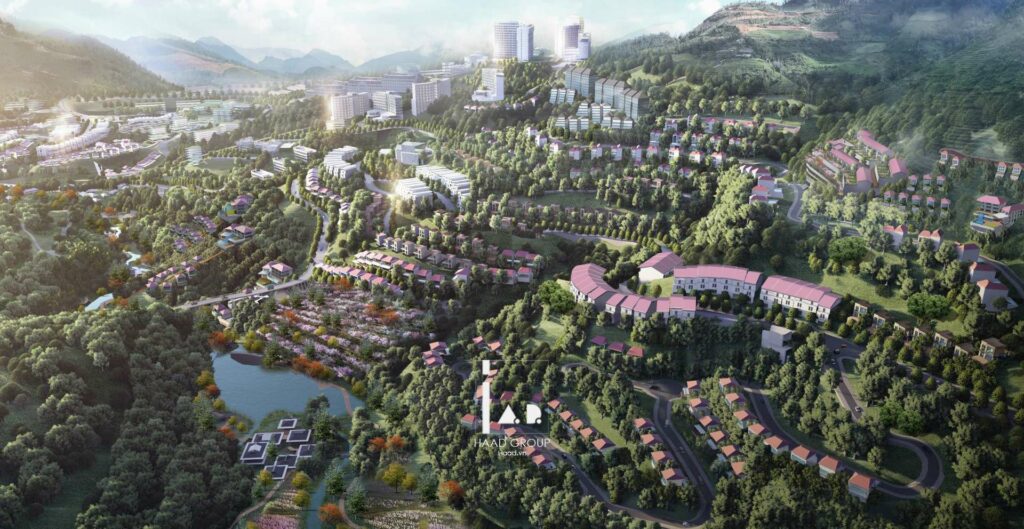 Organize landscape architectural space.
The entire urban area is planned synchronously and completely, with a total planning research area of 160.38 hectares. The site has two access gates to the South and East of the project. The main eastern gateway to the urban area is two 12-storey hotel towers.
The area is oriented to a unique planning design with a mountain-like floor design combined with Suoi Ho Park to create a unique and harmonious overall harmony with nature. in harmony with the existing terrain.
The roads are divided into low-rise residential areas; the front of the house sticks to the road, and the back is a green landscape and a level ecological embankment. Especially in the planning area, a walking street with exchange squares and a shophouse area will be central, highlighting the project's landscape space. On weekends, this area will close its gates to form busy walking streets and festival squares, serving the people's diverse dining and entertainment areas.
The access roads are opened with alternating green spaces so that people can easily access the green spaces – water surface, creating harmony between people and nature. In addition, the projects are built continuously around low-rise villas and public buildings with low density to ensure landscape space and operational functions while still ensuring maximum values in viewing directions. The overall project is exploited to optimally develop the strengths of the climate, sun-wind direction, green space-water surface, view towards the park…
The highlight of the architectural space is the high-rise commercial service building at the main gateway, along with the overall low-rise area designed with floors that do not block the view. This complex of works will become an impressive feature and bring a unique look to the entire project.
The existing area is renovated and embellished to match the general landscape of the entire urban area. In addition, develop Ho Village as an attraction and promote SaPa culture.
Connect space and activities.
Connecting multi-dimensional spaces: Harmoniously connecting with the surrounding landscape, with activities associated with the park, every area has clear navigation spaces; Create landscapes, restaurants, and cafes with views of the lake, square, and green campuses; Ensure hallways are safe.
Forming an impressive gateway project: Becoming a symbol with its landscape characteristics, creating a unique mark for the project, Providing commercial, residential, accommodation, and entertainment services to serve the needs of tourists and local people.
Exploitation of activities: Attractive street activities such as street food festivals in parks and downtown areas. The shops are connected to the activities in the square, and locals and tourists can enjoy the area's activities together.