SPRING VALLEY | ZONE PLANNING SCALE 1/2000 ECO-TOWNSHIP & RESORT DANKIA (DA LAT)
QUY HOẠCH PHÂN KHU KHU ĐÔ THỊ KẾT HỢP DU LỊCH NGHỈ DƯỠNG, DU LỊCH SINH THÁI CAO CẤP DANKIA (ĐÀ LẠT)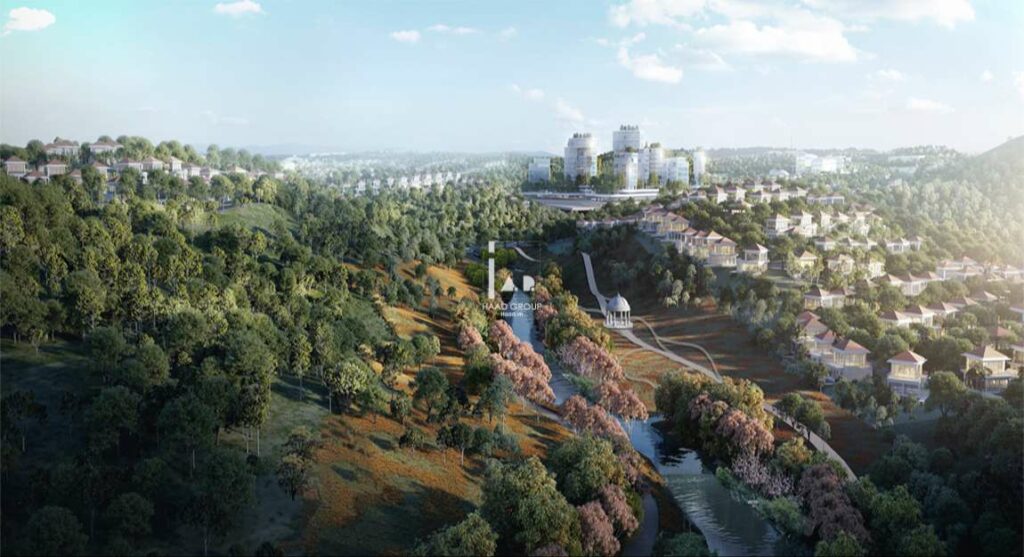 PLANNING IDEA
"SPRING VALLEY"
SPRING VALLEY with chain
MIXED CENTER = ECOLOGICAL PARK + URBAN PUBLIC + HEALTH CARE + TOURISM on the east side of Dankia Road connecting to
CBD MIXED CENTER on the west side of Dankia Road
creating the primary URBAN CULTURE TOURISM brand value for the project

MAIN FUNCTIONS
Public functions:
Including 04 public areas = 01 urban public area + 03 residential unit public areas.
Maintain the southern security and defense zone
Maximum preservation of protective forest land and forest products.
The core and driving force of development is the chain of MIXED CENTERS = ECOLOGICAL PARK + URBAN PUBLIC + HEALTH CARE + TOURISM along the main urban traffic road of Dankia.
Read along the central space line, a series of commercial and service projects, festivals, events, night markets, food markets, flower markets… sports fields, parking lots, and green spaces – squares.
GREEN = BLUE + GREEN chain along natural valleys creates LIVING VALUE for surrounding units
Residential land use
Including 03 groups of housing units with many types: townhouses, commercial townhouses, villas, apartments, and social housing areas.
Keep land in its current state as much as possible.
Divided into 03 types of levels: average, good, high level
The social housing area is divided into 02 regions in the Southwest and Southeast, corresponding to 02 separate development projects in the future.
Main key
The project gateway locations arrange advertising points and highlights:
The northern and southern gateways are arranged with squares and landscape highlights.
MIXED CENTER = ECOLOGICAL PARK + URBAN PUBLIC + HEALTH CARE + TOURISM on the East side of Dankia Street
CBD MIXED CENTER on the west side of Dankia Street