TRUONG SA MUSEUM – The immortal Auras | COMPETITION OF ARCHITECTURE & LANDSCAPE DESIGN (CAM LAM, KHANH HOA)
PHƯƠNG ÁN Ý TƯỞNG THAM GIA CUỘC THI THIẾT KẾ KIẾN TRÚC, CẢNH QUAN BẢO TÀNG TRƯỜNG SA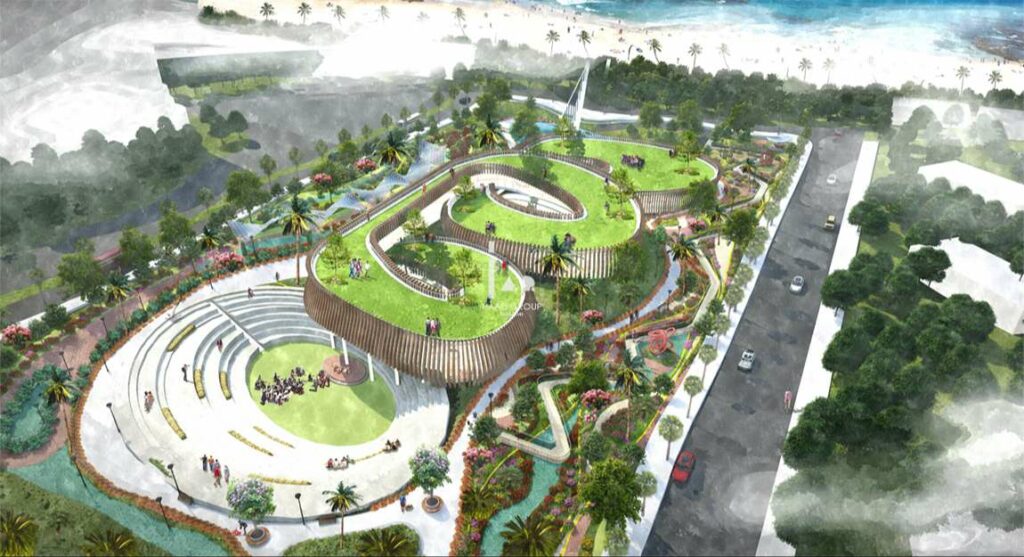 Idea Inspiration
WAVES
"Waves" – in "Ocean Waves" are waves of water constantly crashing against the shore, bringing gifts from the vast ocean, like a never-ending desire.
"Wave" – in "Sound Wave" is the interference sound of wave particles. If ocean waves are like the ocean's hands embracing and caressing, then sound waves are like the melodious music of the sea to soothe. Soothe and heal the pain.
Close your eyes and imagine all the elements that make up amazing "ocean music." We may have experienced pain; the soldiers who fell for their homeland remain in the "immortal circle," but in the future, rebirth will arise like an "eternal halo."… The boat in the distance is like a means of guiding the soul; the sovereignty landmark is like a lighthouse glowing at night so that no one gets lost or left behind.
HEALING
Healing past wounds
Regenerate intense vitality
Idea Design
We design based on the desire for Truong Sa islands and the aura of the waves, where all-natural elements converge, such as Sea – Island – Coral – Waves – Boats – Wind, and Truong Sa.
This place is for everyone to come, feel the wounds and pain of the past, appreciate the present, heal the soul, and regenerate potential vitality to look forward to a new and more beautiful future.
From the "horizon" elements symbolizing the sacrifices of the soldiers, the "light island" signifies a bright tomorrow with light shining in the heart. Surrounding the entire building block are "Sky" and "Ocean waves" as if taking "Truong Sa island – Truong Sa museum project" out to sea, like the embracing and comforting hand of the vast sea with complete love of the Fatherland.
The overall connection with the existing memorial area is shaped like a pigeon. We have continued to open it and not block the direction from the monument so that the soldiers' monument always has a straight and open view of the sea.
We also decided to bring hand-drawn together to bring a different feeling of feeling the brushstrokes of every detail down to the branches and grass or envisioning a harmonious space.
After all, whether the exam was to get a prize or not, we all had months of companionship together, were moved when mentioning the country's historical events, and listened. It is a song about the resilient and indomitable soldier spirit and feeling more love and pride in one's country. From there, the idea contributes to conveying but also intentionally patriotism not only to our generation but also to future generations.
Happiness is not a destination but a journey.