PHUOC LAI TMS SMART CITY | ZONE PLANNING SCALE 1/2000 (PHUOC LAI, LONG AN)
QUY HOẠCH PHÂN KHU TỶ LỆ 1/2000 THÀNH PHỐ THÔNG MINH TMS PHƯỚC LẠI (LONG AN)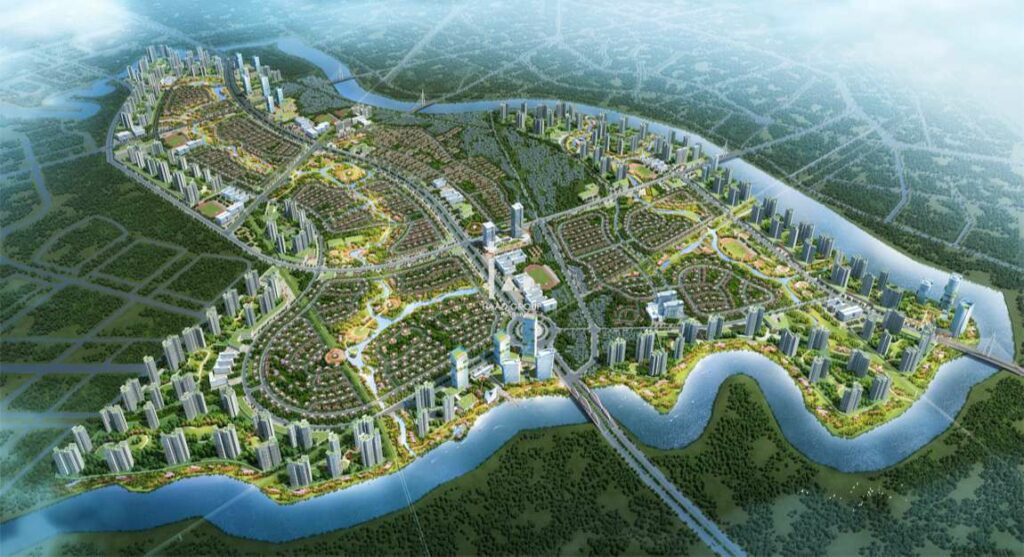 Planning Idea
Based on the natural elements of the design area, develop the area to become a pioneer urban area in the model of civilized and comfortable urban – modern compact urban area combined with the ecological green urban area. This dynamic model plays a very important role in making the nucleus of the satellite city promote the socio-economic development of the eastern region of Long An province and the western region of Long An province. Ho Chi Minh City;
Forming a new urban space with development control criteria in terms of urban function, construction density, building height, and architectural form in accordance with landscape and environmental characteristics in the area; Exploiting the potential advantages of road traffic for socio-economic development;
Divide the space of functional areas clearly, in accordance with the local policy on land use and management methods, including mixed-use high-rise space to make the most of riverside views. combined with public services, commercial and entertainment services, arranged in the core are groups of low-density eco-houses along the core canals in combination with canal parks and air spaces. public green space, and sports area, … still ensure harmony and unity as a whole;
Public green spaces and water surfaces are connected inside and out to form continuous circuits, forming surrounding spaces to enrich the landscape and environment of the area;
The main traffic route connects functional areas to create transparency and coherence. The solution to clearly divide the functional areas creates favorable conditions for the management as well as the exploitation and use of land in different stages; Development of the public transport system, and real-time monitoring.
Expected intersections with the dynamic axis of Ho Chi Minh City – Long An – Tien Giang towards provincial road 826C to the north and connecting belt 1, belt 1 to the south and west of the project boundary. judgment. Expected intersections with Ring Road 4 and Ben Luc – Hiep Phuoc railway line bordering the South
Proposing the planning of social housing, and resettlement housing in the planning area, in order to provide affordable housing services for low-income people.
Modern urban governance with online public services; automatic management control;
Environmental protection with green building criteria; monitoring the environmental quality of land, water, and air, and sustainable and economical use of resources.
Towards a sustainable city by enhancing residents' quality of life, managing urban security and safety, and taking care of community health.